Why choose Salamandar Gifts?
We operate out of our retail premises in the Hart Shopping Centre, Fleet, Hampshire, if you ever get a chance to visit you will find many MANY more items than we can ever show online. Our aim is to bring you good quality gifts that you won't find in the average shop. We work closely with hundreds of small suppliers, many of whom create their wonderful products by hand and in the UK.
Here is a little bit of background on some of our favourite suppliers
Our bath products contain pure essential oils and are all pressed, rolled, dipped, sprinkled and piped by hand in the UK. The gift boxes are made from recycled cardboard and the products cocooned in natural wool wood (before being wrapped in pretty paper).
Our crystals are designed and hand made in Devon.
Many of our candles are hand piped and poured in the UK and contain pure essential oils. Others are made by Cornish artisans from repurposed wine and beer bottles, each bottle cut and ground by hand and the rims polished by flame to give a perfect finish before the luxury hand poured natural wax candles are spiced with trendy drink inspired fragrances.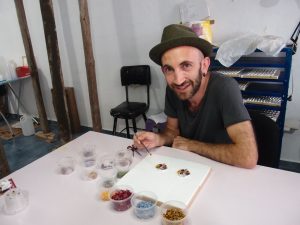 We have jewellery hand-crafted with sterling silver & tiny little flowers which are encapsulated in resin. Each real flower is tending to with love (& water) until they reach the perfect size. They are then carefully picked, preserved & arranged into beautiful creations.
We also have personalised ceramic hearts, each one hand made, written, painted and sprinkled in Covent Garden.
East of India originated from a meeting with a talented man selling his produce in Asia. Today, all the products continue to be designed with love and care in Folkstone, England using traditional skills passed down from generation to generation. In fact, today East of India supports not only that original talented man but his family and friends as well.