At Salamandar decided to stock Village candles rather than Yankee candles because actually we prefer them! What sets Village candles apart from Yankee candles for us is the 2 wicks, after a lot of testing we found that the village candles consistently burned better and cleaner than the Yankee candles. If you love candles we urge you to give our village candles a try! Available in both shops from £10.99.
Below is some information about Village candles…
Why Choose Village candles?
Village candle use only the highest quality materials during the production of every one of its candles. This includes food grade paraffin wax and 100% natural oils from leading fragrance producers. We use dual wick technology in all our candle jars which creates a greater ambience and fragrance throw without diminishing the burn life of the candle. Maximum perfume load is used in every candle we produce creating a high and consistent fragrance throw throughout the entire use of each product. Our candles do not 'soot' like other candles.
Please see some tips and information to help you get the best from your Village Candle..
Burn With Safety
Always burn your candle on a heat resistant surface and away from flammable objects and other sources of heat and droughts. Keep away from children and pets and never leave a candle unattended whilst lit. Always leave a minimum of 10cm between burning candles.
Candle Performance
For maximum results burn your candle for 3-4 hours at a time. After this period allow the wax to cool and solidify before re-lighting. This helps maintain the life of your candle giving you a full and consistent fragrance throw throughout burning.
Trim the Wick
Keep upper wick trimmed to 3-5mm at tall times. This also applies to the first time you light your candle. Ensure the wick trimmings are removed before lighting the candle. Use the wick trimming cutters where possible.
Lighting the Candle
Use a long barrelled gas lighter where possible as they do not leave residue which matches can and is easier to ignite the wicks as the wax reduces down the jar. A candle snuffer should be used where possible to extinguish each flame.
Let the wax pool
Each time you burn your candle allow the entire top layer to become a pool of liquid wax. This creates the best fragrance throw available, keeps your wicks burning with a consistent flame and helps to avoid tunnelling (wax residue on the sides of the candle jar).
Enjoy! Let us know how you get on with these tips, I found the tip about burning for at least 3-4 hours a great help. And Im enjoying a fantastic fragrance 'Throw' 😉  Available at both Salamandar Gifts shops in Fleet and Yateley.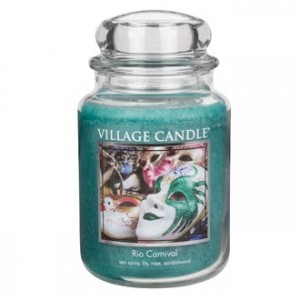 Currently burning (Domini): Rio Carnival
Invigorating sea spray, lily, rose and hints of musk
Size: 26oz (1219g)
Burn Time: Up to 170 hours (I'm on about hour 50! – still going strong)