OFFER 1 – Fragrance Lamps & Oils
Buy one get one half price on all Fragrance Lamp Oils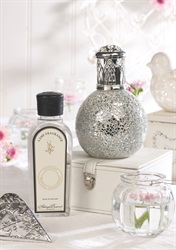 We are now selling Ashleigh & Burwood Fragrance Lamps and oils in both Fleet and Yateley branches. We place orders every few weeks so let us know your favourite scented oils and we will get them in for you. For those of you have been asking we also have the lamp stones back in stock.
OFFER 2 – Scarves £8.99 or 2 for £15
We have the largest range of scarves in Fleet and Yateley, they are exquisitely designed and luxurious to touch. We have held the current price offer of £8.99 each or 2 for £15 for over a year now as it has proved to be so popular, most customers end up treating themselves to a scarf when looking for one for a friend, well, it's such a bargain it would be almost impossible not to.
OFFER 3 – Half price Charms
Mothers day is just around the corner and we have so much beautiful jewellery in stock at the moment – just point your husbands/children our way and we will help them choose something gorgeous for you. With our Shrieking Violet Real Flower jewellery you can have your beautiful flowers forever.
For those of you that own a Charm Bracelet already we are having a massive sale in our Yateley branch of all our silver charms, absolutely all of them are now half price.