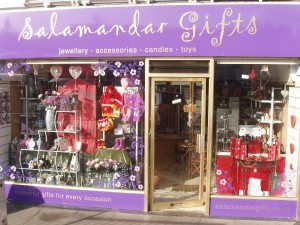 The eagle eyed amongst you may have noticed that our lovely little shop in Yateley is currently on the market. Just to assure you, we are only selling the property itself and not the business. Our shop in the Hart Shopping Centre in Fleet is staying open which means that we can continue to fill the shelves in Yateley with fantastic gift ideas right up until the time we eventually sell.
Several of our customers have been requesting a comprehensive online shop from us for years, however, trying to juggle young families as well as both shops has meant that we haven't really been able to to put the energy and money into creating an online presence. So our plan is to sell the property in Yateley and use the capital to recreate Salamandar Gifts online. This will enable us to reach a wider audience and also to make sure that we can continue to provide the same great service to our Yateley customers who are unable to get over to Fleet.
However, in the meantime, if you feel that you would miss our 'bricks and mortar' shop terribly then please do let us know, as we could be quite easily persuaded into renting another property once the online shop is up and running.
Love Karen and Domini x